An Extraordinary Private Collection of Asian Decorative Arts
On September 12th, Gray's will be auctioning the private collection of the late Ronald J. DiCenzo, Professor Emeritus of History and East Asian Studies at Oberlin College, Ohio. DiCenzo was a beloved and integral member of the Oberlin faculty from his first arrival in 1972 through to his retirement in 2005. Born in Lackawanna, N.Y. to Frank and Margaret DiCenzo in 1939, DiCenzo began his distinguished academic career as an undergraduate at Canisius College in Buffalo before pursuing his Graduate studies, first at the University of Kansas, then the University of Hawaii, and finally at Princeton, where he received his Ph.D. in Japanese history in 1978. As part of his studies, DiCenzo spent several years in Japan during the 1960s, where he first began collecting the wide variety of beautiful antiques now up for auction. As part of the Oberlin faculty, he galvanized student interest in Japan on campus just as it was rising as an economic and cultural superpower in the mid-1970s. DiCenzo went on to help Oberlin College affiliate with the newly-formed Associated Kyoto Program consortium of colleges in the U.S., through which he sent scores of students for study-abroad in Japan. DiCenzo passed away on November 4th, 2017, but his academic legacy, and enthusiasm for Japanese culture, and Asian culture more broadly, are brilliantly displayed through his magnificent collection of fine decorations and furniture now up for auction at Gray's.
Lot 307 contains a beautiful watercolor and ink scroll by early 20th century Chinese caligraphy artist Pu Jian (1893-1966) (also romanized as Pu Jin). A member of the Manchu imperial family and a cousin of the last emperor of China, Pu Jian was part of an elite Beijing painting circle known as the Songfeng huahui, or the Pine Breeze Painting Society, distinguished from other painting circles by the fact that most of its members were relatives of the Imperial family. Pu Jian lived through perhaps the most tumultuous period of modern Chinese history, surviving not only the fall of the Qing dynasty (1644-1911) from which he drew his lineage in the Xinhai Revolution, but the period of brutal Japanese imperial domination that spanned the two World Wars, as well as the Chinese Civil War and the establishment of the People's Republic of China in 1949 with its disastrous Great Leap Forward. Pu Jian's surviving works demonstrate his devotion to traditional Chinese painting and crafts in the face of all this tumult, displaying the resilience of one of the world's oldest cultural traditions in a century of bloody upheaval. The scroll, entitled Scholar in a Landscape depicts a Confucian scholar and his attendant traversing a bridge by a waterfall, surround by dense foliage depicted vividly in the traditional style practiced by Pu and his contemporaries in the Songfeng huahui.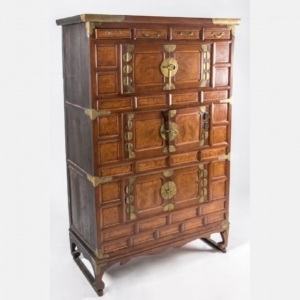 Lot 398 is a large Japanese burled elm wood Tansu chest with brass mounts from the 20th Century. A style of mobile storage cabinetry originating in Japan's Edo Period, Tansu are specifically designed to be mobile and easily moved out of sight of visitors in order to maintain the minimalist aesthetic of traditional Japanese décor. The name is derived from the two characters tan and su, which refer to the storage of food and the carrying of firewood respectively. A longtime fixture of Japanese homes, large size cabinets such as the one up for auction are designed to be disassembled into smaller pieces for easy relocation. Anyone who has thrown their back out moving a heavy cabinet during a rushed move can attest to the elegance of the Japanese solution to this problem.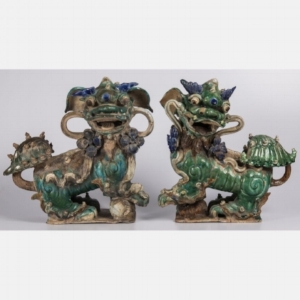 Another lot of interest is Lot 15, a pair of Chinese "Foo Dog" roof tile finials. While erroneously known as "Foo Dogs" in the West, the mythical creatures depicted in these finials and many other pieces of traditional Chinese art and sculpture are actually lions. These guardian figures have long been a fixture of Imperial Chinese heraldry, ceramics, and architecture, dating back at least as far as the Han Dynasty in the sixth century AD. They were traditionally placed in front of Chinese Imperial palaces, government buildings, temples, and the homes of the wealthy, and were believed to bestow a sacred protective power. The lions are nearly always depicted in pairs, as seen here, with a male lion leaning its paw on an embroidered ball representing Chinese Imperial supremacy over the Earth, and a female lion, sometimes with a cub playfully hanging on its back to represent nurture. While the guardian lions have long been a fixture of Chinese culture and can even be seen in Chinatowns in the US today, their appearance and design have varied quite a bit throughout different periods of Chinese history, with these particular lions dating to the Qing dynasty.
The Far East has long been known for some of the finest ceramic and metal works in the world, which make up the bulk of this month's auction. Leading off the auction this month are a collection of Chinese Blanc de Chine ceramic figures. Known to the Chinese as Dehua porcelain, this style of porcelain production dates back to the Ming Dynasty, and is produced in the town of Dehua in the Fujian province. First exported to Europe in the early 18th century, these ceramics became internationally popular for their uniquely pure ivory tone, which results from a special kilning process which removes nearly all traces of Iron Oxide from the raw porcelain, preventing any discoloration. Lots 1, 2, 3, 4, 5, 6, 7, & 8 are Blanc de Chine figures of Guanyin, one of the most sacred bodhisvattas of Chinese religion and folklore. Lot 9 is a large singular male "Foo Dog". Lot 10 is two smaller male Foo Dogs together with a Guanyin, Lot 11 is a matched pair of male and female Foo Dogs, Lot 12 is a collection of six smaller Blanc De Chine decorative items, including Guanyin, Budai or the "Laughing Buddha", Gautama Buddha, and small lidded bowl. Lot 13 is a 9'' Blanc de Chine vase depicting mythical creatures in relief.
Beyond Blanc de Chine, the wide variety of other fine porcelain objects and decorations up for auction is simply astounding. Lot 96 is a Chinese Blue and White porcelain basin, Lot 65 is two palace sized Blue and White porcelain vases, Lot 110 is a large Chinese archaic style storage vessel, Lot 114 is two large porcelain vases depicting birds resting among flowered branches. Famille jaune, noire, rose, verte are French terms commonly used to classify Chinese porcelain by the dominant element in its color palette. Lot 20 is a Famille Jaune porcelain vas, Lot 28 is two Famille Rose porcelain vases, Lot 24 is a pair of Famille Jaune fishbowls, Lot 26 is a Famille Verte vase. Lot 18 is a pair of eye-popping high relief vases. A number of Japanese ceramic objects are also up for auction, including Lot 437, a Japanese Imari porcelain lidded jar, and Lot 467, two blue and white Japanese Porcelain vases.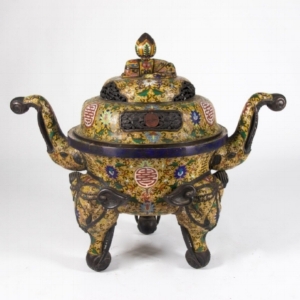 Another uniquely Chinese approach to decorative crafts is the art of Cloisonné ,a technique for affixing gemstones, colored glass, or vitreous enamel to metalwork objects. While the technique is believed to have originally been developed in the Byzantine empire, it had spread to China by the early 14th century, where it was perfected in the form best known today. Metal works such as pottery and figurines are smelted with compartments built in, to which pieces of colored enamel are later attached with thin gold or silver wires and then fused together in a kiln. The resulting objects are sturdy and colorful, combining the long term resilience of ceramics with the pictorial vibrancy of stained glass or painted sculpture. There are over 30 lots of Cloisonné objects up for auction this month, with some particular highlights being a large temple size censer in Lot 255, two large pedestals in Lot 262, two incense burners in Lot 261, two smaller wood and Cloisonné pedestals in Lot 263, a pair of large vases in Lot 264, and a pair of double gourd vases in Lot 265.
In addition to ceramic and metal works, a number of finely detailed carved wood and stone items are also up for auction, including Lot 214, a carved hard stone landscape depicting a number of figures huddled around a cliff side temple beneath a tree. The detail work and color of this object are exquisite. Lot 238 is a pair of carved elm architectural brackets, depicting the fearsome visages of a dragon clutching an embroidered ball, yet another example of magnificent craftsmanship. Lot 372 is a large carved hardwood drum depicting another dragon, Lot 208 is a set of six brilliantly carved hard stone figurines, Lot 342 is a carved and gilt lacquered plaque depicting birds resting among a dense thicket of floral plants, while Lot 343 is a similar gilt and lacquered wooden plaque, this one depicting an aquatic scene of fish and squid surrounding a waterside shrine.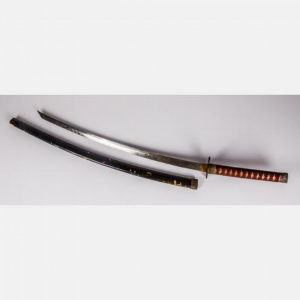 We've only barely scratched the surface of the wide variety of objects up for auction, as Dr. DiCenzo's collection was perhaps one of the most extensive in Ohio. While most of the lots mentioned thus far are Chinese in origin, there are a wide variety of Japanese artifacts as well, such as the set of 12 woodblock prints in Lot 336 or the authentic Katana with Saya in Lot 405. Any enthusiast of East Asian culture, craftsmanship and décor will be sure to appreciate the over 500 lots in this auction, and you can view the full catalog now at GraysAuctioneers.com
Gray's is open for in-person preview September 6 - 12; Monday-Friday 10am – 5pm, Saturday 12noon – 4pm; or by appointment. The auction starts at 10am EST on Wednesday, September 12th with live bidding available at GraysAuctioneers.com. The fully illustrated catalog is avaialble online now at GraysAuctioneers.com.